[2/15 Zoom Student-Organized Event] Sophia × Partner Universities Student Exchange, "上智大学×協定校Intercambio entre Estudiantes ゆるっとおしゃべり会 en línea"
Earlier this academic year, Center for Global Education and Discovery have called for applications from Sophia students for organizing and hosting of student lead event. The event below is the third event of the series!
In this student-organized event, participants are going to enjoy talking and learn about different cultures through conversation. Please click the link below for more information! We look forward to receiving your registration.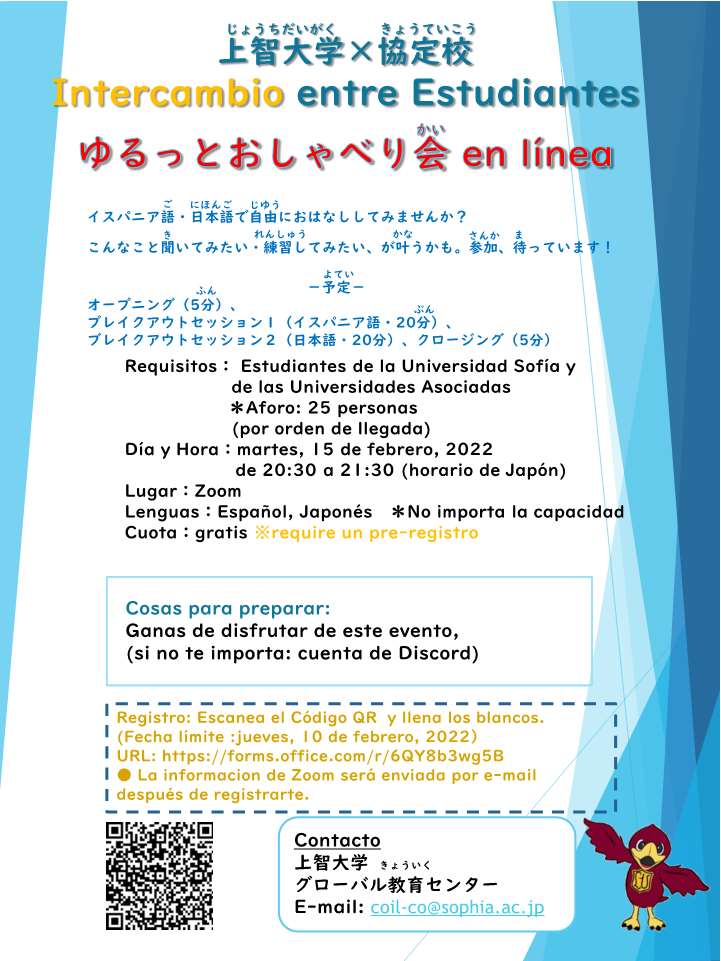 Eligibility Current students of Sophia and Partner Universities
-Note: Up to 25 students (first come first served)
Date & Time Tue. February 15, 2022
20:30 to 21:30 (JST)
Language Español / Spanish
Participation Fee Free
<Pre-registration required>
Format Zoom ID will be provided by e-mail after signing up.
Registration
Please fill in the form from the link below. (Deadline: 13:00 Thurs, Feb. 10, 2022)
https://forms.office.com/r/6QY8b3wg5B
Things to prepare Be ready to enjoy the event!
Contact Sophia University
Center for Global Education and Discovery
Email: coil-co(at)sophia.ac.jp